Regular readers of The Climbing Cyclist will know how far I have come in my short cycling career. Thanks to a lot of great mentors and supporters, some awesome opportunities, a great Team in Total Rush and… a lot of hard work, too.
The hard work seems to be paying off. I've been training consistently for about 12 month now with my Super Coach and feeling great because of it. With two new signings in Kate Perry and Emma Scott, our Total Rush team is looking as strong as ever.
This year is going to be a big one, with the Mt Buller Road Race the second on the VRS Calendar. My lead up to the Mt Buller Road Race was looking good. That was up until about two weeks ago, I was feeling super strong on the bike. I had some success during the last race of the Femme Vitesse crit series, where I picked up the most aggressive rider, laps leader and 3rd overall in GC (you can read about it here )… And although I has not trained specifically for it, I completed Three Peaks, in a time just under 11 hours (you can read about it here ) where my legs were feeling fantastic throughout. So I was looking forward to a strong performance in the looming Mt Buller Road Race.
My good feeling were short lived. Two weeks ago, I somehow acquired a nasty virus, that put me in bed for a solid three days and suffered what some called "post viral" fatigue for another week. I was a disappointed to say the least. I was itching to get on the bike, but my body would just not let me. Everyone told me, "I had to listen to my body", and I did, I got back in bed. Cadel's secret, sleep, was going to be my friend.
One week out, I mustered up the courage and got on the bike, and my legs felt like led. I felt like I was riding on 60 psi tyres. I went from feeling as strong as ever, to struggling to put out 100 watts along Beach Road.
I always place a lot of expectation on myself when racing, and this time was no different. Last year I came 4th in the Mansfield Crit and I won the Mt Buller Road Race, albeit in C grade, but wanted to prove myself and do well again. So my lead up to the race was not as I imagined it to be. My mind was saying yes, and my body was saying no. I had a goal of finishing top 5 before getting sick, now I doubted my ability to achieve top 10.
It was race day. After a pedal with the girls in the morning, I was feeling okay. I nervously lined up with my team mates Kelly and Kate, ready to go for the Mansfield Crit. There weren't the starters that I had hoped for. I'm not sure why? There were plenty of A grade spectators on the sidelines, cheering us on! We lined up with 11 others all the same and got on with it. Our plan was to be aggressive. With three of us from Total Rush represented, there was a good opportunity to test our team tactics.
The course is quite fast considering how technical it is, with a left, right, right, left, right, right, roundabout, left, left… essentially a three sided short hotdog circuit, I was in the hurt box from the gun. I'd say that the race itself was fairly un eventful. With a break away of four establishing almost straight away, with Lizzie Williams (Specialized Securitor), Lauretta Hanson (Building Champions Squad) and Shannon Malseed (Holden) all pushing the pace from the gun. There were a couple attacks on our group of four, but we pretty much stayed together until the final corner, where the sprint started and I was left behind. There was no way that I could take on Lauretta, Lizzie and Shannon, who finished in that order. Not a bad result, my legs were definately awake now! (see the strava file here )

Finish line photo from the crit
That evening whilst we ate dinner we all sat down together and discussed the looming race . It was Kate's first road race since taking three years off to study and it was Emma's first A grade race after a dominating performance in B grade at the Tour of East Gippsland. This was going to be a short race, about 2 hours and 47km. The final 16km would suit the climbers of the bunch, with the gradient at about 6%. We were all feeling good, excited to be racing together for the first time.
It was a cold start on Sunday morning for the Road Race. Kelly, Emma, Kate and Myself lined up with 30 other ladies, all wishing we had worn our long finger gloves.  I had a pretty ordinary sleep the night before, and was feeling a bit fatigued after yesterdays efforts, and my legs were not feeling as fresh as I'd hoped.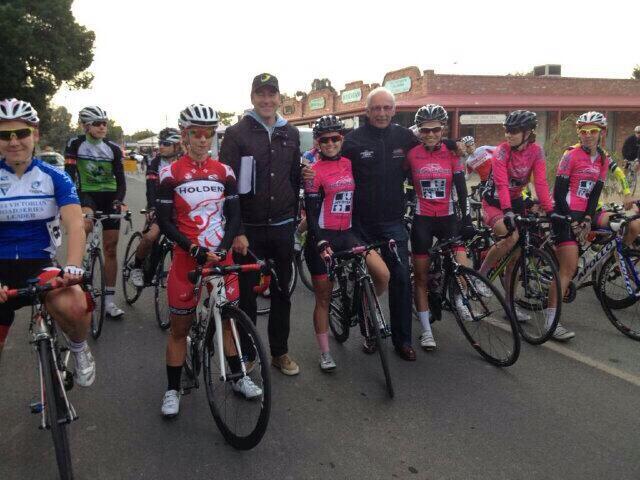 Sucking up to Scotty McGrory
After a few attempts by various riders, including myself, Bike Bug-Next Gen, Holden and Hampton Cycles, it was apparent that no one would be allowed to get away. We rode almost two by two for the first 35km, Bicycle Superstore had a rider sitting on the front controlling the pace, and I sat towards the front (where I probably shouldn't have been). Meanwhile Kate, Kelly and Emma sat in, ensuring they were a good position to start the climb.
As the toll booth loomed, the mood in the bunch changed and the pace picked up. It was on. The tempo was kept high as we climbed, which prevented early attacks. I kept turning around to see where the rest of the team were positioned, I could see Kate's helmet bobbing around, tucked in behind Tessa. At the half way point of the climb, there were still about 16 riders together, Building Champions Squad, Bicycle Superstore, Holden, Hampton Cycles, Lizzy Williams and Tessa Fabry were all there, in the bunch… until about 4km to go.
It was getting late in the game, we were hardly going to have a sprint finish at the top… so I was nervously listening for the tell tale change of gears and the jump of the bunch. As soon as a lul in tempo came, the almost predicable happened, someone attacked. The attack went, it was Tessa Fabry, with our new rider Kate, on her wheel. I was too slow to respond, but others including Lizzie, Flick (Bicycle Superstore), Georgina Beech (BikeBug NextGen) and Shannon were quick to follow.
From then on the bunch of 16 was no longer, with a group of 6 or so up the road, myself and everyone else chasing. In the end, it was Lizzy Williams 1st, Tessa Fabry 2nd, and Kate Perry on the podium for Total Rush in 3rd! I managed to hold on to a top 10 finish in 7th place, with Kelly and Emma not far behind. Great team work saw Kate on the podium, can't wait for more of that to come! (see the strava file here )
So despite not having the lead up I would have liked, I'm happy with how both the crit race and the road race turned out. I finished top 10. I was certainly not expecting that result, at all. Seeing Kate on the podium was awesome result for the team! That girl can climb! In hindsight, I probably spent too much time on the front as usual. The usual fears of getting dropped the main driver for me, especially considering how my legs were feeling. I think I need to get my top tube sticker back to remind me "get off the front grasshopper". I'm working on it.
It is time for a rest week, after which I'm looking forward to feeling 100% again and to having a better lead up to the next race on the calendar, Mt Baw Baw Road Race.
Until next time, get on your bike and ride it!